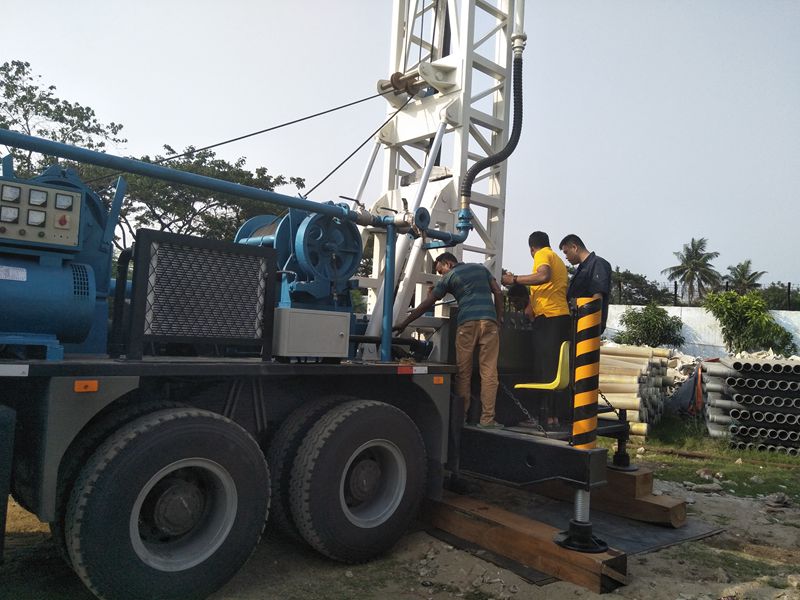 In May 2019, shandong binzhou forging machinery factory professional engineer wang ying, Yin Guofeng by invitation of the Bangladesh customer in Bangladesh for overseas after-sales service, commissioning BZCLY450ZY drill, training local staff.
Bangladesh is located in the north of the bay of Bengal, terrain mainly plain, low-lying, account for more than ninety percent of the national area, an average elevation of 300-600 meters, formed by sedimentary rock. Bangladesh customers through investigation in many ways finally bought by my factory independent research and development production of BZCLY450ZY drill.
BZCLY450ZY on-board and reverse circulation drilling rig is a kind of truck mounted rotating disc rotary drill, drill choose heavy truck chassis 8 x 4 special drill. Drill can be circulation drilling technology is 450 meters of the deepest Wells engineering operations, and can carry on pile foundation engineering in reverse circulation drilling technology in drilling operation, is suitable for the geological, transportation, construction, water conservancy, port construction. BZCLY450ZY truck-mounted rig of geological structure, strong adaptability, can be in clay, sand, strong weathering, rock, basalt and so on the many kinds of strata in drilling. Ended on May 14, 2019, I plant rig was well received by the customer, at the same time to achieve long-term strategic cooperation intention.