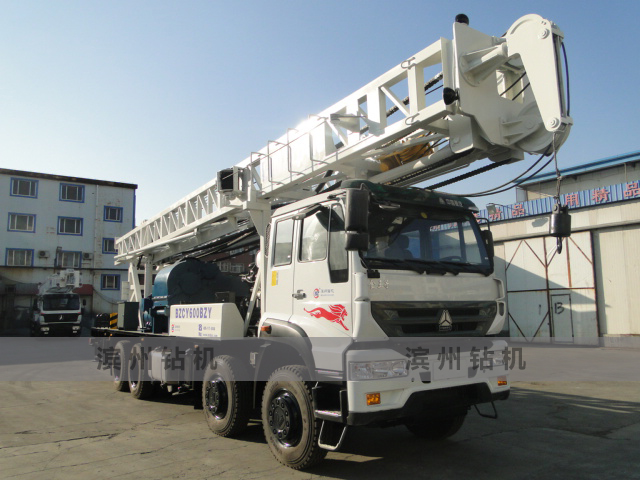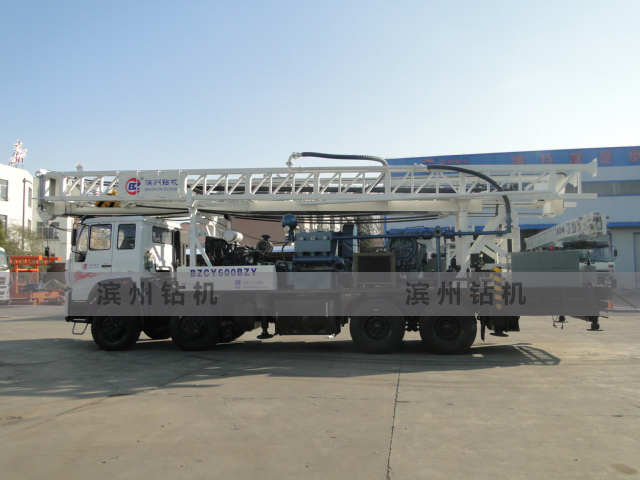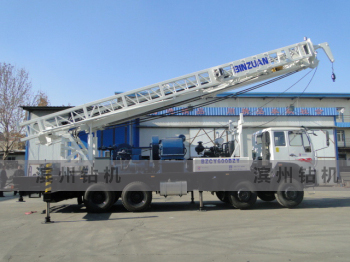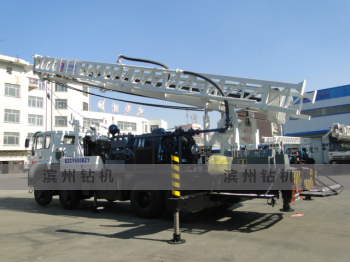 Main features:
◎BZCY600CWY truck mounted drilling rig is a directly rotary drilling rig. This truck chassis is adopt the 8×4 special chassis of brand SINOTRUK, 11.00R20 steel off-road tire tread, with good off-road performance.
◎This rig has very compact structure, the engine of chassis is adopted D10.27-40 diesel engine, the power is 196kw(strong power) The drilling rig has independent diesel engine (COMMINS 6BTA5.9-C180), the power is 132kw. Not only meet the drilling requirements, but also reduce energy consumption, it is very affordable.
◎This rig is design principle is an advanced hydraulic cylinder for drilling, stepless lift, it can be achieved automaic drilling. it can automatically adjust the drilling speed for different geological conditions.
◎The drilling process can be achieved in pressruized drilling technology, adjust different pressure for different geological conditions, and can be viewed drilling pressure by pressure gauge. At the same time, it can adjust the drilling speed.
◎The drilling rig can achieved fast drilling by manually, especially for soil. It can achieved different speed for different soil.
◎It has a large lifting force hydraulic main hoist, stepless lift, and to achieve release rope quickly. When upgrading heavy, the lifting speed need slow to aviod crash the turntable and wellhead board. When put down single drill pipe, operate the quick handle, it can achieved release rope quickly like mechanical hoist.
◎It has a hydraulic tool hoist, the tool hoist has large lifting force and quick lifting speed, it is both easy to loading drill tools, drill pipe and drill accessories transport, and can slide up and down with anchors, its very convenient to load and unload the drill pipe.
◎It has a hydraulic cylinder control double card board forward and backward, it makes the insurance card board closed, to achieve stuck or release the pipe joints.
◎It use integrated design of pneumatic, to achieve the 3NB-130 mud pump clutch using pneumatic remote control, it has high degree of automation and easy-saving operation.
◎It is installed 4 hydraulic legs and 2 mechanical legs, every hydraulic leg rod with locknut。 After leveling the rig, it can lock the cylinder use locknut. So, even if the cylinder leaks, the chassis is not instability.
◎The turntable use stir bars, internal turntable use spiral arc gear to transmission, it has large torque, it about 2 times of similar products at domestic and foreign.
◎It is installed a generator (30kw) , so that it is convenient to illuminate or work at night.
◎The hydraulic system use open system, the chassis and drilling rig are separately manipulated, it can avoid misuse. Winter oil heater and summer oil radiator are installed, to adapt to different seasons hydraulic oil for heating and cooling.
◎This drilling rig equipped with an auxiliary unloading cylinder, it can be used to promote the turntable ratchet, to achieve auxiliary unloading the drill pipe.
Technical parameter

Drilling depth(M)

600

Drilling diameter(mm)

500

Speed of turntable(r/min)

110;96;56;36;21;12(reverse)

Torque of turntable(KN.m)

4.3,5,8.5,13.,22.7,40(reverse)

The capacity of oil pump (KN/mpa)

245/20

The feeding force of oil pump (KN/mpa)

59/10

The single rope capacity of main windlass(KN)

50

The lifting capacity of main hook(KN)

300

The single rope capacity of tool windlass(KN)

20

The single rope capacity of tool hook(KN)

20

The height of mast (mm)

11800

Bearing capacity (t)

36

Pipe

Kelly (mm)

108×108×7500

Assistant pipe (mm)

Ф89×10×5500

BW850/2A

mud pump

Theory of flow (L / min)

600 850

Rated pressure (Mpa)

3 2

Pounding times (min-1)

58 82

Diameter of suction tube (mm)

127

Diameter of drain pipe (mm)

64

Input speed (r / min)

470

Input power (kw)

40

Overall dimensions (mm)

2000*1030*1400

Weight (t)

1.5







Drilling Power

diesel engine

COMMINS 6BTA5.9-C180

Power(KW)

132

Speed (r/min)

2200

Out-put Torque(KN.m)

750Nm/1300 rpm

Truck chassis

Model

SINOTRUK

Drive form

8×4

Engine

Model

D10-27-40 diesel engine

Rated power(KW)

196

Speed (r/min)

2200







Electric generator

Model

MF

Rated power (kw)

30

Rated voltage(v)

400

Rated current(A)

27

Speed (r/min)

1500

Frequency(Hz)

50

Protection level

IP21

Insulation Class

H

Transport size(L*W*H)(mm)

12725×2490×4208

Working size(L*W*H)(mm)

11825×5374×14008