Binzhou city senior vestibule school party secretary and the principal shu-lin wang and deputy secretary of party committee Meng Weizan to my factory research drill production work
Description:On April 17, 2020 in the afternoon, binzhou city shu-lin wang, a senior technical school principals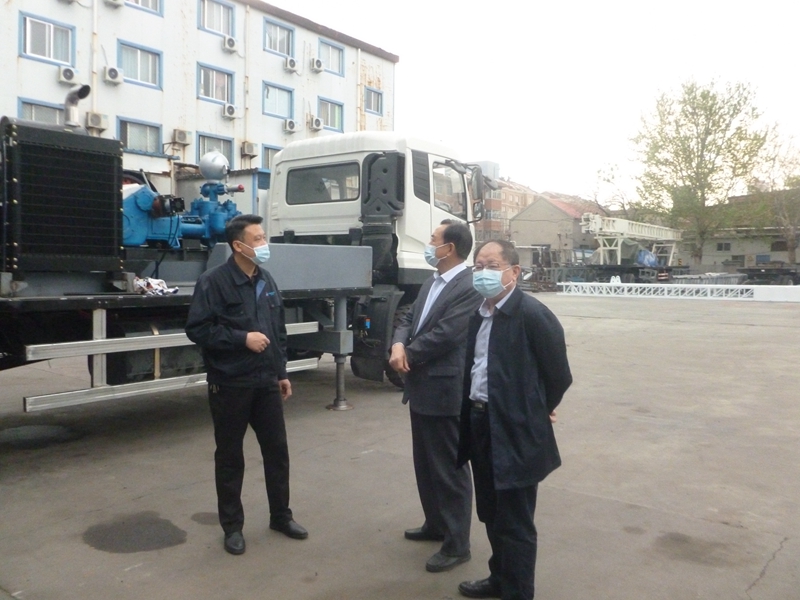 On April 17, 2020 in the afternoon, binzhou city shu-lin wang, a senior technical school principals, Meng Weizan secretary of a line to my factory research drill rig production work, shu-lin wang the principal and secretary Meng Weizan into our factory benchwork assembly, mechanical processing, welding assembly, spray paint and other production workshop, a line of view guidance, field investigation, detailed understanding of binzhou rig performance and technical parameters, technical innovation, and combining with the current during the outbreak of domestic and international market for in-depth analysis of the influence of mechanical equipment manufacturing industry, put forward the targeted guidance. Binzhou forging machinery factory factory manager reporting to the school leader and order situation of the market at present, in the current order is enough, the enterprise operating normally, after shu-lin wang President, secretary of the Meng Weizan encouraged everyone to cherish very hard-won market opportunity, during the period of guarantee the quality of our products and do business sincerity, customer trust, the worker.
Through site visit, experience introduction and discussion on the exchange, shu-lin wang the principal and Meng Weizan secretary of binzhou drilling work achievements gave high praise.
Meng Lubin factory director of shu-lin wang principal and secretary Meng Weizan line of arrival, a warm welcome, hope to take this opportunity to further intensify communication in the future work, actively explore, continuous power.
In recent years, binzhou drill respond to new challenges and seize new opportunities, to implement the strategy of "towards the outside world", the company constantly innovative ideas, and actively explore, bold practice, from the service worker, health care, to meet the demand, do the service zero distance, make the worker felt enterprises care from the deep heart's core, a happy work, the atmosphere of harmonious development.